RBA031S113-A-404AX
Map Playing Cards - India
Different country customs are displayed on the back side of playing cards. There are 6 series in total. You can find USA, China, France, India, United Kingdom and Spain for your option. You ought to have the playing card decks as the countries mean something special!

On Ace you can see the shape of the country. And significant signs of the country will be found on J, Q, K. The boys and girls of the country, country names as well as the national flags are showed on Jokers. With this deck of playing cards, you sense the yearning and longing this country brings to you!

The playing cards are made with exquisite plastic. The thickness 0.31mm is adequate and the material is water-proof and durable, which is specifically appropriate as a gift and souvenir!

Our playing cards are made in Taiwan. The quality is excellent and guaranteed. Minimum order of 1,008 decks.
Specification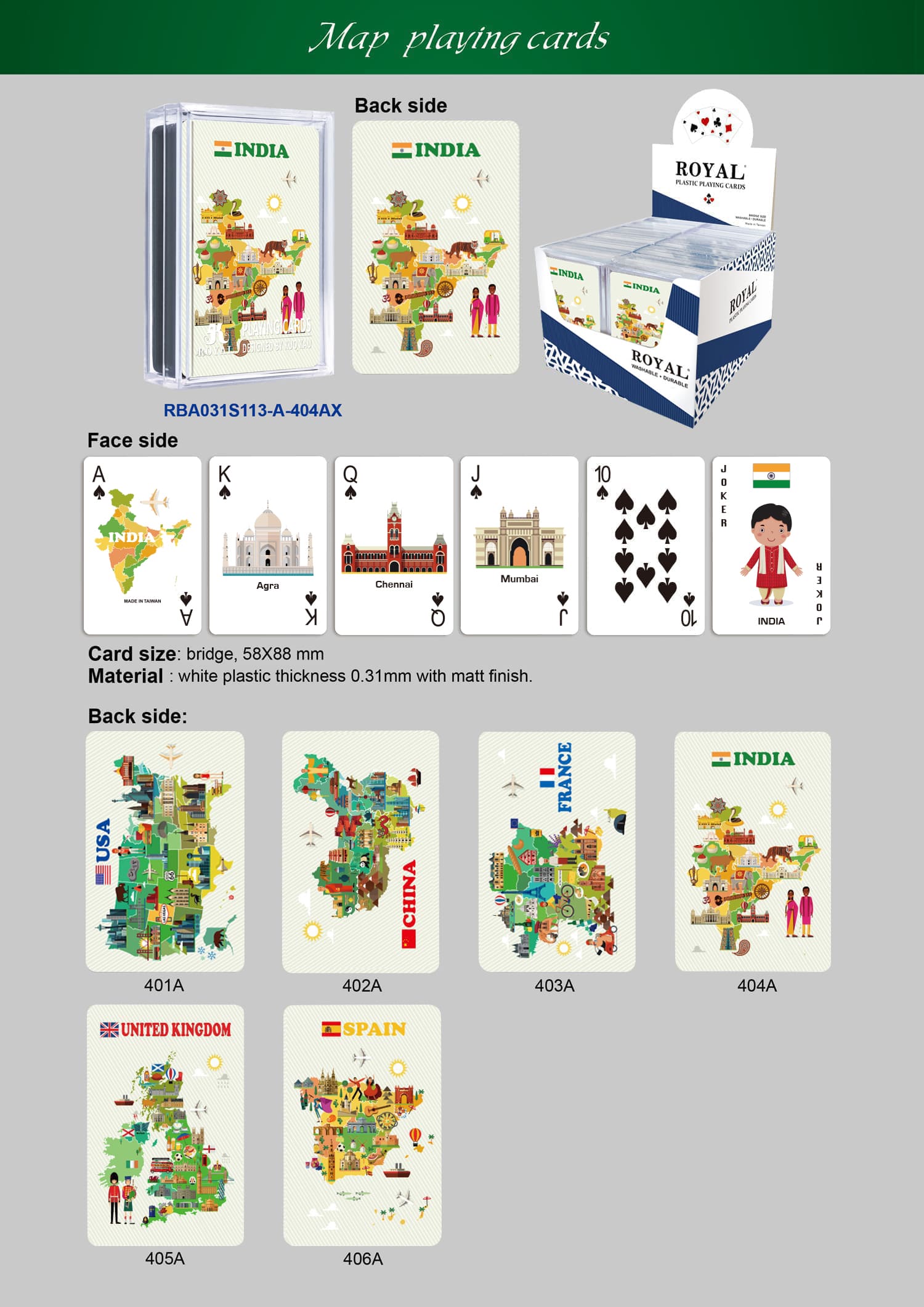 Material
Bridge, White plastic thickness 0.31mm with matt finish. (PVC 0.31 matt)
Coating
Unique coating on both sides..
Card Size
Bridge, 58x88mm.
Number of Cards
54 cards.
Face side
Our design imprint.
Back side
Our design imprint.
Packing
Each deck is shrink wrapped in a plastic box.
Delivery packaging
36 decks in an inner box. 144 decks in a master carton.
12 decks in our design display box paid service is available.
Safety/Quality Approvals
CE-EN 71,Part 1,2,3/ASTM F 963/CPSIA